Are you a parent or friend on the hunt for gift ideas for a 19 year old boy? If so, we know it can be difficult and time consuming As a result of this we've researched, reviewed and put together a list of what the best stuff for older teen guys are and included it all right here!
When guys are turning nineteen, they can be quite picky about the things that they like and their interests can vary widely from boy to boy. On top of that there are so many choices available these days making the gift buying process quite confusing.
Do you go with something safer and more practical, like a hair trimmer or do you get something more personable, such as a piece of jewelry? What about something fun and exciting like a laptop or bluetooth speaker?
By the end if this guide to the top gifts for 19 year olds, you'll have a much better idea about what to get your son, whether it be a game, drone or something for their dorm as they go off to college.
Our Top Picks
Best Stuff for 19 Year Old Males
We've made sure to include a good variety of birthday gift ideas. Throughout out our review, you'll come across some unique gems that could take that 19 year old by surprise!
[Related: If you're searching for small gift for your teenage son we suggest you check out our guide to the best stocking stuffers for teenage boys.]
Bluetooth Bose Speaker
Summary
This speaker by Bose included Bluetooth technology that enables any 19 year old to listen to music wirelessly. It can be easily connected to a wide range of devices.
We also liked how it weights just 1.2 lbs and comes in a compact size. This makes it very easy for guys to use it while on the move.
Pros
8 hour playtime
Water resistant
Voice commands available
Cons
Some find they have to factory reset the speaker after a while
Bluetooth Cowin Headphones
Summary
These headphones have been fitted with noise cancelling technology. This is fantastic for enabling 19 year old guys to be completely immersed in their music while out and about.
We also liked how they've included a swivel feature with the ear cups. It's excellent for enabling boys to wear the headphones at an angle that feels comfortable to them.
Pros
Built-in mic
Range of colors available
30 hour play time
Cons
Not as durable as some were hoping
Laptop Backpack
Summary
We were impressed with how this backpack comes with an password lock as it allows boys to keep their valuable items protected. The zippers have also been made with strong metal materials.
There's a range of dividers available inside the backpack that makes it easy for storing different items. Laptops that are up to 15.6″ in size can be stored securely.
Pros
USB input for charging device
Padded shoulder straps
Good variety of colors available
Cons
Some were expecting the backpack to be a little larger
Philips Hair Trimmer Set
Summary
This hair trimmer set features a range of 23 pieces. This makes it a great choice for 19 year old boys who want to be able to shave their face, head, and body.
We liked how you don't have to worry about using any blade oil with this trimmer. The DualCut technology that has been implemented to the blades keeps them trimming with precision for a long time.
Pros
5 hour battery life after being fully charged
Durable fiberglass construction
Easy washable with water
Cons
Some were hoping for more power
Meme Party Game
Summary
Any 19 year old can have a lot of fun using this game to play in groups with friends and family. It involves each person using the card they've been dealt to come up with a funny caption.
One person is selected to be the judge for each round and they decide which player has the best meme. You can be sure that it will have guys laughing for hours of fun.
Pros
435 cards included
Expansion packs available
Cons
There are typos on some of the cards
DEWALT Tools Set
Summary
19 year old guys who are getting into DIY work could put this tool set to good use. It comes with an impressive range of 108 pieces.
This includes various sockets, ratchets, bit drivers, and more. Therefore, young guys have plenty of tools to get jobs done around the house.
Pros
Case for storage included
Anti slip elements available on the tools
Cons
Some find the sockets are difficult to take out in the cold
Multipurpose Tool Pocket Knife
Summary
This Swiss Army pocket knife comes with a wide range of tools that have 33 different functions. These include things like a screwdriver, corkscrew, pliers, and more.
Therefore, it can be a handy gift idea for any 19 years old boy who like to travel in the wilderness for camping or hiking. Not to mention, it can also come in use for jobs around the house.
Pros
Variety of colors available
Lightweight & compact
Cons
Magnifying lens isn't as durable as some were expecting
RFID Blocking Wallet
Summary
We like how this wallet comes with RFID blocking technology. It works effectively to prevent people using machines to steal your card details.
People have also been loving how the wallet has been made with a super slim design. This makes it easy to keep in your pocket while you're out and about.
Pros
Can fit 7 cards
Money clip included
Range of colors on offer
Cons
Card slots are a little tighter than some were hoping
Home Repair Tool Set
Summary
Most 19 year old boys have either already moved out on their own or are looking forward to the day that they have their own place. When that happens they will soon discover that they need to make small repairs to the place that they live. This tool set comes with a claw hammer, screwdrivers, cutting pliers, adjustable wrench, tape measure, sockets, driver-bits, and much more.
Pros
Has all the basic tools for simple home repairs
All the tools come packed into a nice handy case
Cons
Not as many tools as some consumers wanted
What makes this stand out?
While this tool set is not filled with tools it does have all of the basic tools that you need and they come all set up in a compact case.
Phone Finder Tile Mate
Summary
The Tile Mate is a unique present that any 19 year olds can use to ensure they never permanently loose their phone or keys again. It can be connected to your phone wirelessly while setting it up.
If you ever loose your phone or keys for that matter, you can double press the button on the tile to ring the phone. Even if it's on silent, the phone will ring and make it easier for you to find.
Pros
One year replaceable battery
Tile Mate can be attached to keys
Cons
Portable Hammock
Summary
This hammock has been made with a compact and lightweight design. Therefore, you ca be sure to pack it down into backpack to use while you're traveling.
Boys can be sure to have the hammock set up in no time as well. This is due to the simple to use tree straps. So, there's no need to worry about tying knots.
Pros
Durable nylon materials
Feels comfortable
Single & double models available
Cons
Some find the sides of the hammock fold in too easily
Electric Razor
Summary
The Panasonic Arc5 wet/dry razor and trimmer is a good razor for daily shaving as well as trimming beards, mustaches and sideburns. It has multiflex pivoting heads that follow the contours of the face and have a built in shaving sensor as well as a LCD battery indicator.
Pros
Gives a close shave
Blades stay sharp for a fairly long period of time
Cons
Some consumers found that their razor suddenly just quit working
What makes this stand out?
This is a handy razor that provides a close shave. The battery indicator light is great for telling users when their razors need to be charged.
Digital G-Shock Casio Watch
Summary
Casio's G-Shock watch comes with a fantastic water resistant feature. This lets active 10 year olds wear it while swimming in depths that are up to 200 meters.
We also liked how it comes with a range of functions. these include timekeeping, countdowns, a stopwatch, and an automatic calendar.
Pros
Shockproof design
Back lit display
Cons
Some would prefer if the time display was larger
Camping Tent
Summary
This Coleman Sundome tent is the perfect tent and gift for teens who like getting away from it all and camping with friends. This 2 man tent is waterproof, has welded corners and inverted seams, it is designed to withstand winds higher than 35 mph, large windows and a ground vent for better ventilation, and an Eport so that you can have electricity in your tent if you choose. It also comes with a flysheet for extra protection.
Pros
Tent is easy to set up
Easy to get in and out of the bag
Cons
Some of the tent poles are known to break quite easily
What makes this stand out?
This tent is a 2 man tent, but is best suited for 1 person if you want room in the tent for storing your gear.
Portable Massage Pillow
Summary
This is a great gift for 19 year old boys that they will appreciate due to how effective it can be at providing a massage. There are 4 kneading balls that rotate and provide a deeper massage that relaxes tight muscles in the back and neck.
We liked how it has been made with a compact design. As a result, guys can take it with them wherever they go.
A dust cloth has been included as well. This is fantastic for helping to prevent the massage gift from causing any irritation to the skin.
Pros
Overheating protection included
Durable design
Easy to clean
Cons
Only one kneading setting available
Bracelet with Cross Design
Summary
If you're buying a stuff for a nineteen year guy who has a religious belief, they'll love the cross design that's available on this bracelet. The stainless steel materials combined with the black rubber provides it with a fantastic visual appeal. As a result, it can look great with different outfits.
Boys have been liking how the clasp that's included to tighten and loosen the bracelet is easy to use. It also works effectively to keep the bracelet on properly.
Pros
Comfortable to wear
Durable materials
Cons
Some would prefer if the bracelet was larger
Travel Bag
Summary
Having a good travel bag is something every 19 year old needs. Whether they are traveling back and forth to college or visiting friends for a weekend, a travel bag gives them some place to store their gear This travel bag is a great choice. It has a special shoe area on the side of the bag, two front pockets for storing those items you want to get to quickly. This travel bag is made from durable canvas and leather.
Pros
This travel bag is well thought out with plenty of compartments
Nice looking bag for travel
Cons
What makes this stand out?
This bag is nice enough looking to take on business trips, but has the space and pockets for teens to take along when visiting friends or even for camping.
BBQ Utensils Set
Summary
When it comes to buying presents for a 19 year old who is heading to college, you can be sure that they'll appreciate this utensils set. It comes with a total of 19 pieces. Therefore, guys are provided with the complete kit to BBQ like a pro.
We liked how the storage case that has been included is made out of aluminum materials. It's durable and makes it easy to store everything away in one place. We were impressed with how the spatula that's included can be used for tendering, cutting, and flipping meat. Not to mention, it can even be used to open bottles with!
Pros
High quality stainless steel materials
Heat resistant handles
Safe for dishwashers
Cons
Cleaning brush isn't as strong as some were expecting
Bluetooth Lamp & Speaker
Summary
Teenage guys have been liking this unique gift as it lets them listen to music while lighting up their room. It has been Bluetooth enabled and implemented with a speaker.
Therefore, teens can connect their devices to listen to their favorite music. The color of the lamp can also be adjusted to light up the room in different ways.
A timer feature is available too. This works to automatically turn off the light and music. It's an awesome feature that teens have been loving when it comes to listening to music at night and falling asleep.
We liked how there's a Smart Touch feature that lets you alter the brightness of the lamp by simply touching it.
Pros
USB cord for easy charging
Soft lighting
5 hour battery life after being fully charged
Cons
Color resets every time you turn the lamp off
Bluetooth Beanie by Rotibox
Summary
This beanie has been incorporated with V4.1 Bluetooth technology. As a result, nineteen year olds can connect it to their smartphones. This lets them listen to music without the need for additional headphones or earphones.
There's a mini stereo system available in this hat that lets teenagers listen to music while wearing it. We liked how it comes with a control panel as well. It's super easy to use and lets you navigate through the different settings. The soft materials used to make the hat are also incredibly comfortable.
A microphone has been built-in to this beanie. Therefore, boys are able to have phone conversations with a hands-free experience.
Pros
6 hour battery life
Completely washable once headphones are removed
Cons
Some would prefer if the beanie fit a little more snug
Stylish Wooden Watch
Summary
We liked how this watch weighs 3 ounces as it makes it super lightweight. Therefore, teenage boys are able to wear it and not notice it too much. The strap has been made using soft wooden materials. As a result, it feels very comfortable to wear. There's also an adjustable feature that lets you fit it properly to all wrist sizes.
To provide accurate times, there is a quartz analog movement available. We also liked how the battery that's available can be replaced easily after lasting for years.
Pros
Quiet operation
High quality sandalwood & bamboo construction
Cons
Glass can be prone to cracking easier than some expected
Leather Bracelet with Jewelry Box
Summary
This bracelet is available in a couple of different designs. It includes black and silver, and completely black. Both color options have a design that includes 2 rows that provides the bracelet with an awesome visual appeal.
They've included real leather materials while making the bracelet too. So, teen boys are able to wear it all day long and feel comfortable.
People have also been mentioning how they like the stainless steel features. The stainless steel has been used to design the ornaments on the bracelet that look fantastic.
Pros
Polished finish
Adjustable features
Lightweight
Cons
Some would prefer if it was a little smaller
Kinetic Balancing Set
Summary
If you're searching for a present for a boy who has an interest in science, this kinetic balancing set could be a great choice. It has been made with high grade stainless steel that's resistant to rusting.
The design of the person holding the weights looks excellent as well. Teens can gently push the person on top to watch how it moves from side to side. We also liked how the character on top can be rotated 360-degrees.
It's an awesome gift that looks great on desks. When teenagers need a break from studying, they can tinker with this set and be able to think more clearly.
Pros
Relieves stress
Great decor
Cons
Some would prefer if it was larger
Shocking Reaction Game
Summary
The Shocking Reaction Game is a super fun gift for a 19 year old boy. Teen love to use it to play to play in smaller groups with their friends since can be played by 2-4 people.
All players have to hold a handle while one person presses the button in the center. A flashing red light and music is activated to build up the tension. When the light turns to green, everyone has to try and press their trigger buttons as fast as possible.
People have been liking how a variable shock mode is available. You can alter this between low, medium, and high.
Whoever's last gets a shock!
Pros
Cons
Some of the plastic materials could be more durable
Batman Themed Coffee Cup
Summary
If you're looking for a gift for a guy who loves Batman and coffee, you can be sure that they'll appreciate receiving this cup as a gift. The design is super sleek and stylish.
We were impressed with how they've implemented a rubber finish. This allows teens to hold onto the cup with plenty of grip to ensure it never spills.
With a 15 oz capacity, teens are able to fill it up with lots of coffee to keep them going for the day. The double wall feature also keeps cool drinks cold and hot drinks warm.
Pros
Officially licensed DC comics design
Awesome conversation starter
Cons
Magnetic Stress Reliever
Summary
This is an excellent gift that can help guys to relieve any stress that they're experiencing. It's particularly great for putting on desks as it can be used during breaks to keep the mind stimulated.
Teenagers have been having a lot of fun being able to come up with a range of different shapes. The set lets them make all kinds of structures, which is an exciting and creative process.
The base has been implemented with magnetic properties. This works well with the balls to make structures that remain stable.
Pros
Awesome piece of decor
Sturdy base
Variations of ball sizes available
Cons
Smaller than some were anticipating
High Intensity Interval Training Game with Cards
Summary
Are you looking for gifts for a teenage boy who has a passion for health and fitness? If so, this HIIT game could be an awesome present.
The game involves working out with the HIIT (high intensity interval training) method. This requires guys to perform quick bursts of exercise, followed by short rest periods. The workouts in this set can vary in length between 4 and 20 minutes.
We liked how it makes working out fun by putting it into a game form. Boys can play the game on their own or with others. So, you can be sure they'll make plenty of use out of it.
Pros
Progressive difficulty levels
No additional equipment required
Lots of playing cards included
Cons
Some would prefer if the instructions were in the box rather than getting them online
[td_smart_list_end]
Our Top Picks
Related
Gifts for Guys Age 18
Gifts for Guys Age 20
Gifts for Guys Age 21
Gifts for Girls Age 18
Gifts for Girls Age 19
Gifts for Girls Age 20
Gifts for Girls Age 21
Buyers Guide to What Good Gifts for 19 Year Olds Are
Now that you've had the opportunity to read through our review of the top presents for teenage boys, you can start to narrow down your search. You'll be able to have a better idea about the kinds of gifts that teen are interested in.
However, if you were looking for some additional guidance, you may want to check out this buyers guide.
We've put together more details surrounding these presents so that you can feel more confident about making a final decision.
What are Good Christmas Presents for 19 Year Old Guys?
If you're trying to find a gift for a nineteen yr old you'll want to keep your focus on practical gifts that they can use in their everyday lives. We've reviewed gifts of this type in our guide including a cool and unique pizza cutter or son can use while away at college. The backpack we included is also a good option.
If you're on the hunt for something a little more fun an advanced the drone or hammock we looked at are things your son will likely enjoy.
What are Good Birthday Presents for 19 Year Old Guys?
For a 19th bday the stuff you choose won't be all that different than Christmas. We again suggest you focus on practical stuff like the tool set, Bluetooth speaker and pocket knife we took a look at.
What Are Popular Types of Gifts for Older Teenage Guys?
While reading through our review, you will have seen that we've made sure to include a wide range of presents including drones, jewelry, watches, games, massager tools and practical stuff such as Bluetooth speakers or tool sets. This is to ensure that you're provided with a wider variety to pick from.
If you were looking for a clear way to distinguish between the different kinds of presents that are available, take a look below.
Drones
Drones are cool gifts for older teen guys as they're able to have a blast flying them around outdoors. The one that's in our review even comes with a camera that allows guys to take pictures and videos in HD.
If your son has never flown a drone before, you'll be glad to hear that many of them come with beginner friendly features.
For example, there will often be a button that can be pressed on the remote that will automatically make the drone takeoff and land. It's a great feature that allows teens to get to grips with the controls.
Once they get more experienced, they're able to have a lot of fun doing all kinds of stunts in the air and taking fantastic images at the same time.
Jewelry
Jewelry can be a thoughtful gift that teenage boys will appreciate. In our review, we've included bracelets and a watch.
They have stylish designs to ensure that guys are able to wear them with different outfits and look great.
You may find that teen guys who are turning 19 will appreciate these kinds of gifts more. It enables them to wear the jewelry wherever they go which can make it feel more special.
Jewelry can be an excellent type of gift to give to a boyfriend. This is especially the case with the ones that feature a personable message.
Games
Games for nineteen year boys to play in groups with their friends can make for awesome gifts. The shocking game that has been reviewed is incredibly fun for 2-4 people to play together.
These games can be an effective way to bring your son together more often with friends and family to have fun.
The HIIT game is a different type of present that boys can choose to play on their own or with others. This kind of game can help them boost their health and fitness, while having fun in the process.
Stress Relievers
When boys are turning nineteen years old, there are lots of things going on in their lives that can start to cause stress.
This can range from relationships to college work. Regardless, you can feel confident in knowing that they will make use out of a good quality stress reliever.
These stress relievers are usually small and can be put on the desk and be part of the decor. The magnetic ball sets encourage guys to play with them and create different kinds of mini structures.
There are also kinetic desk pieces that can be satisfying and relaxing to watch. Not to mention, a massage pillow could also be a great gift idea. They can be used to provide deep tissue massages to relieve any stress that builds up in the back, shoulders, and neck.
Practical
We've made sure to include some lovely gifts for older teen boys that they can make good use out of as well. This includes things like the BBQ utensils set of the Batman themed coffee mug.
These are presents that guys will be able to use on a regular basis. Since boys who are turning nineteen years old are maturing more, they may actually appreciate these kinds of gifts more.
What Are Unique Gift Ideas for Your 19 Year Old Son?
Are you wondering what to get a teenage male for his birthday if he already seems to have everything?
If so, the job of finding a present that they'll love can be very tricky. However, we've included some fantastic options in our review that are a little different from the norm.
For example, the funny golf putter set could be a good idea. It's highly entertaining and your son will have a lot of fun being entertained by the sounds it makes.
Something like the Star Trek pizza cutter could be an awesome and unique gift choice if you boy is heading off to university. It has been officially licensed, which means a lot of detail has gone into the design. Guys who love Star Trek would love using it to cut their frozen pizza when away at college.
Alternatively, you may want to opt for presents that have a more personal feature. There are some great gifts that you can personalize, such as a piece of jewelry with an engraving on it.
A young man may be able to find more meaning in these kinds of gifts if they already have everything else that you can think of.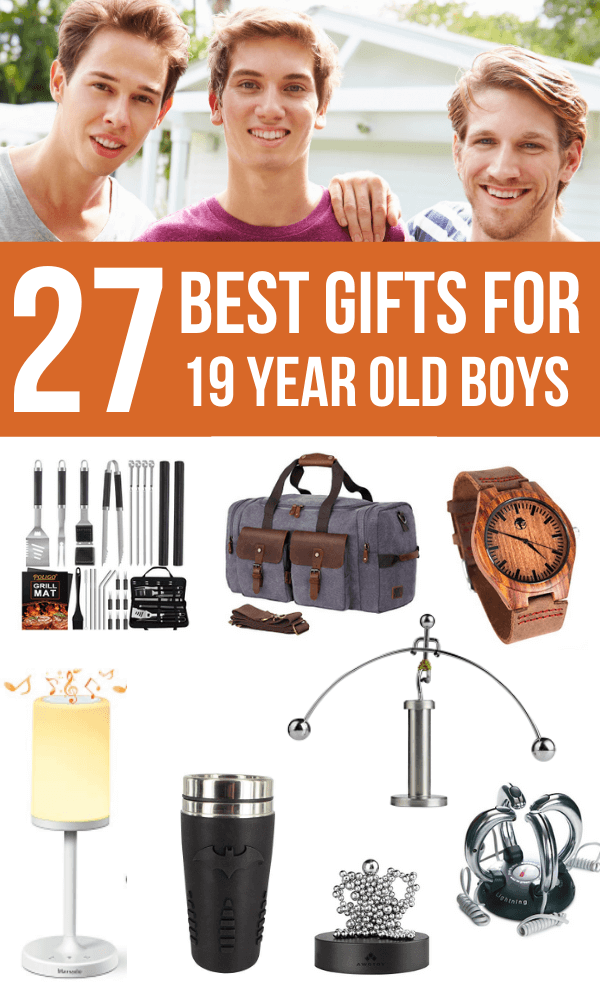 Final Thoughts on the Top Rated Nineteen Year Old Gifts
So, that concludes our review on what some of the the best birthday gifts for 19 yr old boys are.
Be sure to read through the main features, pros, and even the cons of each gift idea. That's what will enable you to have the best idea of the present that's right for your son. Regardless of whether you're looking for Christmas gifts or birthday items, you can be sure to find what you're looking for above.
Hopefully, all of the details throughout our review of gifts for 19th birthdays have been useful in helping you to choose a great present for that special guy.
Popular Picks